Opulencia Equestrian is an elegant, private facility featuring the best amenities and serves as the home and training ground for Rebecca Larkin as she continues her quest for dressage and show jumping excellence.

Opulencia Equestrian features a beautiful, airy three stall main barn with all of the amenities.
Also a second barn with a 12x12 stall and a 12x24 stall.
VIDEO TOUR OF FACILITY


This state of the art private facility features a Olympic size, mirrored dressage arena with a FutureTrack arena footing of a mix of sand / carpet fiber installed by Field Specialties Equestrian Surfaces.. This combination enhances arena surface stability helping reduce the risk of equine injury as a result of deep footing while allowing a comfortable flexibility in the surface for the horse. The arena has been engineered for optimum drainage so that we have minimal drying time after a rain. Special attention is given to the arena daily. The arena is watered and groomed to provide safe footing and a dust free environment. This farm is a serene setting for training. We also have comfortable patio areas for guests to relax and socialize while spending time here.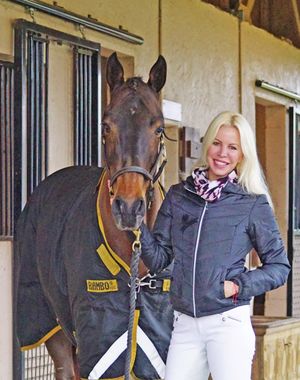 A state of the art 10x10 tiki hut for a cool and relaxing place to enjoy watching the horses be ridden - nothing like shade, a cold drink and a little music to make for a relaxing day!

The barn is kept in a very clean, organized manner from the tack, to supplies, to feed. The horses are fed three times a day with top quality hay and feeds. An experienced staff ( mainly myself ) cares for the horses; services also include full grooming, turnout, exercising programs, specialized feeding, etc.

Opulencia provides pasture turnout for horses stabled on the premises. Our lush green pastures range in size from approximately 1 to 3 acres.  We also have several smaller turn out paddocks each with a run in and or/stall.  We feel that integrating this turnout time into our dressage program is a natural way for the horses to graze and relax. We utilize horse safe weed control and fire ant protection on the entire property. There are top of the line run in shelters with lightening protection as well in most paddocks.

A round pen is also available.

Located in the prestigious Shady Road area of Ocala, Opulencia Dressage is only 5 minutes from the Florida Horse Park - This park provides endless hours of peaceful trail riding. We believe trail riding is an important component of our dressage program for its cross training benefits. Numerous shows and events are held at this park as well.

The property features a video system for round-the-clock surveillance of the entire farm including barns.    
Just 10 minutes away from Peterson and Smith Equine hospital, one of the best equine hospitals in the nation. So you can be sure that even in emergencies, your horse will be taken care of correctly.

Rebecca Larkin takes athleticism seriously and incorporates all aspects of riding into her training program such as health, safety, footing, cross training, sports psychology, and nutrition for both horse and rider.